Post by susanm on Jul 12, 2012 10:17:39 GMT -5
ok here goes

this will take a while
Monday July 2nd - got up early (3am) and went over everything one last time to be sure i didnt forget anything. a friend was able to give me a ride after all, so i got to the airport in plenty of time for my 6am flight. (funny more time needed at small local airport than in orlando

) booked with United but they changed my flights to later in the day...i had called and complained about the change so they put me on a usair flight for 6am. not much time but grabbed a soda and crackers for the flight so i could take meds. arrived in Philadelphia on time 6:40am. had a little time now so grabbed an egg sandwich and got my 8am flight. arrived in orlando right on time at 10:30am and got to magical express and was at all star music before 12.
as a surprise a cast member met me getting off the bus. he had a laptop and asked if i was susan.. he took me off to the side so i didnt have to stand in the already long line (i did do the pre-check in on the disney site if that means anything) he did have my request for a first floor room in the rock & roll section but asked if i would mind a 3rd floor king room instead. just so i could get my room early i said yes. then he told me that they were bumping me up to a preferred room in the Calypso section, very close to the elevator and overlooking the pool. great room. he gave me a birthday card, an already set up photo pass, room key and birthday button, and was done and on my way in less than 5 minutes. stopped at Maestro Mickeys and the food court, grabbed my mug and a quick kids meal hot dog to hold me over until i got a meal. it was only about 12 but i was starving. By the time i got to my room my bag was there...and 2 others as well.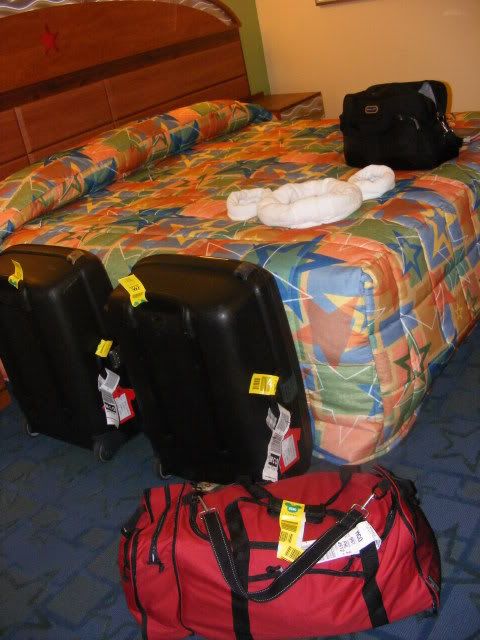 the red duffle and black bag on bed are mine....the other 2 ??
i took the bus to DTD and a taxi to Goodings. the driver was very nice and asked where i was going...explained what i wanted to do, so he took me to goodings, waited while i got my stuff ([pepsi- (2) 8 packs pringles chips (were 2 small snack packs for $1 so bought a bunch) a small birthday cake for later and a huge bag of grapes to break down to small baggies for each day) and some other snacks...and he took me back to all star music for $35. was prob a lot but got everything done, back in the resort fridge and off to Studios by 4pm.
the park was very crowded but i thought i was in hyper mood and since i missed Fantasmic last time i wanted to be sure to see it..and studios was open until 12 so off i went. went to Toy Story Mania, but naturally by now they were out of fast pass and the stand-by was about 2 hrs...so passed on that until next full day at studios. Went to see Little Mermaid, caught the last Beauty and the Beast show, did Walt, one mans dream, on a hot dog kick, stopped for another since i was hungry and it was getting too late to do a sit down meal, rode the great movie ride and Fantasmic. after that, during the extra hours I did the great movie ride again, saw a music group playing in front of the sorcerers hat and walked thru some shops. stopped for a popcorn & water and the CM at the cart said "Happy Birthday from Mickey" no charge for the snacks..wow.
got the bus back to the resort and started to unpack. by the time i got everything settled, showered and relaxed it was 3am again.. wow ..was going on 24hrs ..no wonder i was tired. didnt set the alarm. tomorrow is MK and they are opened until 1am so planned on a later start.